Welcome to Stoney Brook Plantation. We are located along Peachtree Parkway in Peachtree City, Georgia – a short drive south of Atlanta. We have 111 homes in our neighborhood and are guided by a Homeowners Association that organizes community events and takes care of our amenities. More about Stoney Brook
News & Events
Graduation Banner
Graduating high school seniors living in Stoney Brook can have their names displayed on the neighborhood banner this spring.  Simply send their name and high school to Scott Ritenour at grounds@stoneybrookptc.com by early March – the sooner the better.
New Welcoming Committee Chair
Kim Chapple has volunteered to welcome new residents with a small gift and keys to neighborhood amenities.  Please join me in thanking Kim for her service to our community.
2018 Board Members
A complete list of board members and contact information can be found here.
New To The Neighborhood?
Send your contact information to our Property Manager to receive news and updates from the Board.  Even if you choose to opt out of newsletter messages, we'd like to have your information in the event of an emergency.
Stoney Brook Neighborhood Facebook Site Launched
In July we officially launched the Stoney Brook Facebook private group.  Residents wishing to view and contribute posts should visit the group and submit a request to join.  Non-members can see the group and its members in News Feed, but cannot see posts.  Membership requests and site monitoring will be administered by a resident volunteer reporting to the Board.
Front Entrance Sign
As another way to keep residents informed of neighborhood news and events, the board installed a customized sign near our front entrance.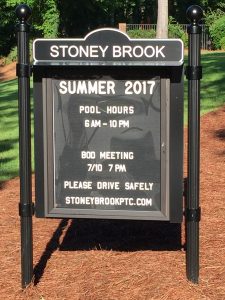 Amenities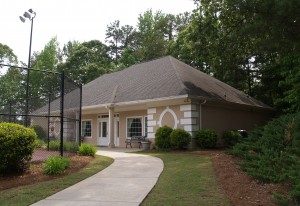 We enjoy the use of wonderful facilities.  Please help us preserve the quality and safety of our facilities by observing the posted guidelines.  We'd love input on how we may better operate the facilities and could occasionally use help in maintaining what we have!
Peachtree City Services
The city manages many of the resources within our neighborhood and, while the board is happy to make maintenance requests, residents can make these requests directly through the PTC web site.  Core services include road and cart path maintenance, street light outages and traffic violations.  Typically the more residents that raise the concern, the sooner the city will take action.
Making Changes?
Please remember that significant modifications to your landscaping or home exterior, such as tree removal, painting, roofing, driveways, etc., require Board approval.  Print and send a modification request form to the ACC before initiating changes.
There is a $50 penalty per day for unapproved projects. We also remind all residents that ACC review and approval can take up to 30 days so submit your requests well in advance.
Download our ACC Design Standards.
Board Meetings
Monthly board meetings are typically held on the third Monday of each month in the clubhouse.  Residents are welcomed to attend the meetings and, if desired, request time on the agenda to discuss specific topics.  Such requests should be made at least 5 days prior to the meeting by contacting any board member or our property manager.  Meeting minutes are posted on this site.